It was an early start and beautiful morning for the Criterium and final event in the SLCC Women's Series at Victoria Park this morning. C and D grades had a really quiet and spacious track which produced some excellent racing. Great to see the bunches working together but also the tactics come into play. Sprints were won by Vanessa Seeliger and Sharlene Harding taking out the prizes in D and C grades respectively. A much bigger group for B and A grades (which we were thrilled about – seeing there were some tired legs out there) saw riders again working together, using the group, dropping back and then surging again for the sprints and the finish line. Sprint prizes for B and A grades went to Emma Seeliger and Staci McCudden, respectively.
Sprint winners: Staci (A grade), Emma (B grade), Sharlene (C grade) and Vanessa (D grade)
We had some riders new to racing joining us (Vanessa – second race) as well as seasoned professionals – all aiming for placings which made for an exciting morning of racing and finish to the 2018 SLCC Women's Series.
Congratulations to all the racers today and throughout the series.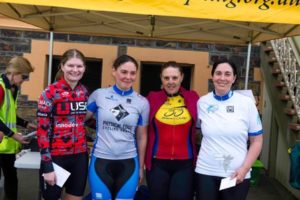 Please find below the results in for the Criterium:
A Grade placings – Criterium
B Grade placings – Criterium
C Grade placings – Criterium
D Grade placings – Criterium
SLCC Women's Series points:
Overall Series Placings – A grade
Overall Series Placings – B grade
Overall Series Placings – C grade
Overall Series Placings – D grade
A big thank you to our volunteers who supported the racers and kept them safe.
Without you this wouldn't happen. The morning went well thanks to the efforts of the Commisaire and volunteer teams; Graeme Zucker, Paul Trim, Ken Gooding, Robert Faulkner, Felicity Laing, Leanne Perugini, Judy Irland, Carmel Barber, Anne-Marie Wesley and James Caracoussis.